15% off Bali Blinds & Shades
Offer valid through August 28, 2022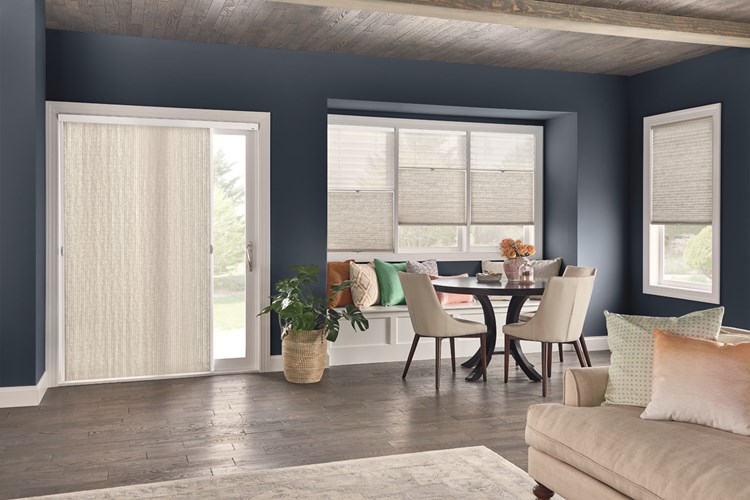 Vertical Cellular Shades
Features & Benefits
Superior Energy Savings for Sliding Doors
The striking and unique, honeycomb shape of Bali Cellular Shades prevents hot and cold air from escaping through your windows, lowering your energy bills all year long. VertiCell™ Cellular Shades let you enjoy the same benefits on wide windows and sliding glass doors for chic, whole-room coordination.
Superior energy savings. Bali Cellular Shades reduce heat transfer by up to 64%* by blocking the sun's heat in the summer and keeping your home's heated air from escaping in the winter.
Premium fabrics. Our cellular shades are made from chic, woven fabrics and crush-resistant, spunlace fabrics. These all-new, best-in-class fabrics are soft, yet durable, for quality you can see and feel.
Right for every window. Windows come in lots of shapes and sizes—and Bali has them all covered. Our cellular shades can be made up to 144" wide and in almost any shape you can think of—from circles to triangles and more.

NEW

expanded blackout cellular fabrics. Enjoy complete, light-blocking privacy for any room where darkness is needed. Choose from four new prints and wovens, and 23 total new colors for an easy, whole-home solution.

NEW

Healthy Home fabrics. Breathe easier with a proprietary, antimicrobial coating engineered to help eliminate bacteria, fungus, mold, mildew, and odor from your home.